If the guttering system in the property you live, work in or have rented is leaking or gets clogged very often, we can offer you our effective cleaning services. The technicians in our company are supplied with the latest tools and equipment for reaching, unclogging and cleaning downpipes, fascias and soffits.
Our staff's work is professional and ensures excellent gutter cleaning which can be used by in Balham by homeowners, renters and holders of business estates. Gutters need cleaning at least once per year which ensures their functionality and removal of the debris, wastes, moss, leaves and wastes that get clogged in them.
Outstanding Gutter Cleaning Balham
The best way to ensure the long time usage and functional condition of the soffits, fascias and downpipes of the guttering in your estate is using professional cleaning services. Our staff are experts in removal of blockages and wastes from gutters. We can offer you excellent services which guarantee:
Free flowing of rainwater from the pipes and fascias
No blockages, leaks, brick or property damages
The use of advanced and effective equipment for cleaning
Safe and thorough cleaning implemented from the ground with telescopic poles
Cleaning gutters from ladders whenever possible and necessary
Our staff's work is provided with the help of tried-and-tested tools and equipment which are the latest available on the markets. We carry out vacuum cleaning inside downpipes and fascias to gather all wastes that have been collected and block the draining of rainwater.
"I consider this an affordable gutter cleaning service, especially for the quality provided. Moreover, they arrived on time on a Saturday morning, which by itself is laudable. My gutters were in a rather bad shape as we live next to several tall fir and yew trees. Thank God you cleaned those gutters before the next heavy rain! – Ronnie"
Reliable Gutter Cleaning Services SW12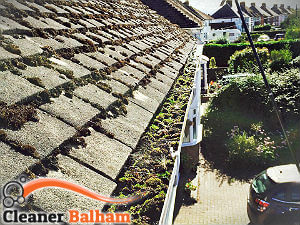 Our gutter cleaning services can be used by homeowners, holders of commercial estates and tenants in SW12 during weekdays and weekends.
We carry our effective removal of mud, grime and leaves from fascias, downpipes and soffits. In case the customer needs before and after the cleaning pictures, our technicians can provide such.
They use tiny CCTV camera which ensure supervising of the cleaning process so that it is implemented effectively. Call us to schedule the cleaning for a convenient date and time and get your no-obligation free quotation.
Being exposed to the elements soffits, fascias and downpipes get clogged with all kinds of wastes which obstruct the flow of rainwater and can lead to leaks and moisture. To protect your property form damages and use the drainage system long time book gutter cleaning which we provide in Balham, SW12 at least once per year. The work of our staff is professional and guarantees removal of blockages and wastes from downpipes and fascias.